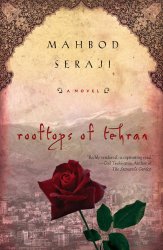 Rooftops of Tehran by Mahbod Seraji was beautiful. Absolutely beautiful. Seventeen-year-old Pasha practically lives on his roof in the summer of 1973 along with his best friend Ahmed. Pasha has fallen in love with the girl next door, Zari, but feels immense guilt because she is engaged to Doctor, a man Pasha respects and looks up to. The summer serves to increase the friendship between Pasha and Zari but ends in a tragedy which will change the way Pasha sees the Iran he lives in.
I am absolutely in love with this book. I soared through it because I just could not put it down. The characters seemed to jump off the page. Pasha and Ahmed as best friends was so believable. They teased each other and embarrassed each other but were always there for each other when needed most. I think I loved their scenes the most because they reminded me of how I am with my best friend.
I loved the rich setting of the novel. I fell in love with the people in Pasha's alley. They were so loving and caring. There was a warmth and a togetherness that I do not see in my little neighborhood and wish I could. This novel had everything going for it, and I can only wish that I can find another book that made me feel as deeply as this book has made me feel!